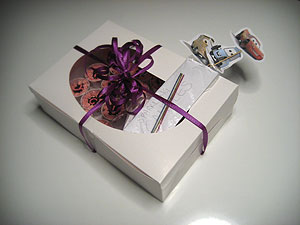 This year Cleo is 3 years old. Mommy made mini cupcakes for Cleo to bring to school to treat her friends. Although the teachers did not allow the parents to be around, but we believed they had a good time.
Both Daddy and Mommy took leave on that day and picked up Cleo and Clié at the school when it ended. With Vouchers to a restaurant in Paragon, we went there for lunch and then over to Toys 'R' Us after lunch.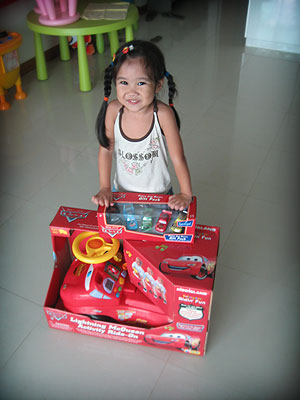 We planned to get Cleo something nice, but we did not have a clue what should we get.
Cleo recently liked the animation Cars alot and we saw this little red car and i immediately decided that we need to get this for her. You can see how happy she is.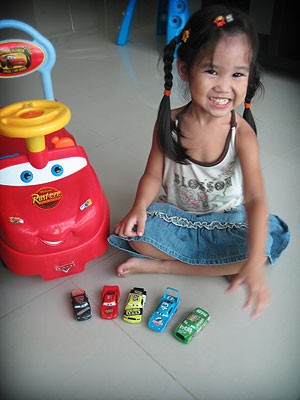 She loved her cars and she wants to play them all the time. At home, now the preferred mode of transport is by "car". lol.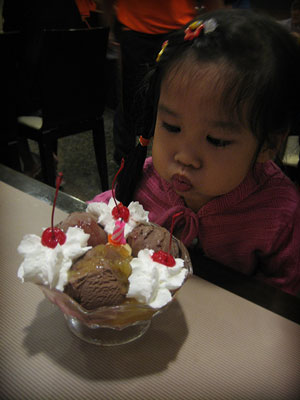 At night, wel went to Changi Airport for dinner and with that day being her birthday, she had a free ice cream cake at the restaurant and she loved it.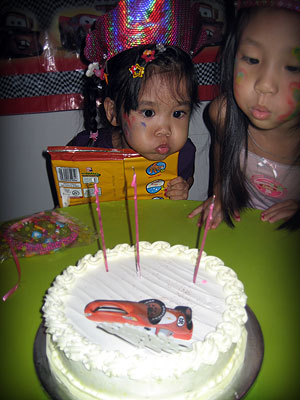 On Saturday, mid afternoon, we decided that we should have a mini party for Cleo and we did. There were party hats, food and of cause a cake. But as the theme is "Cars" we printed out a picture of her favorite car and just plonked that printout on the cake. Wahlah its now an expensive looking cake.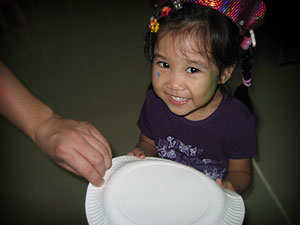 Cleo is a wonderful girl. Cheerful, full of joy and laughing all the time. She is funny to have around. omg… i miss her already.