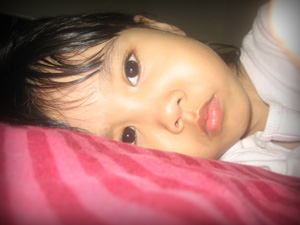 Apparently Cleo knows where the digi cam is, she knows how to switch it on and also knows how to take pictures of herself. Daddy sometimes get suprise pictures in the camera when reviewing photos.
These random photos might also be taken by Clié but what ever the case. Its really nice to be able to see things that are happening at home when daddy and mommy is at work.
When Cleo is not laughing or jumping about, she always have that serious mellow thinking look. I wonder what she is thinking about here. Maybe "Will daddy scold me for playing with his camera".