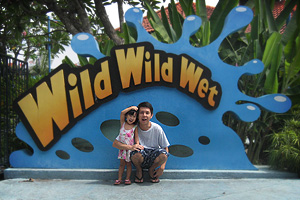 Its the school holidays so both daddy and Mommy took leave to bring the kids out. This time its off to Wild Wild Wet. As it was a wet ordeal, we did not take much pictures, but here is one with Cleo and Daddy posing at the most predictable place ever.
Started of with Mac Breakfast, then when Rebecca came, it was time to get wet.
It was a nice day with Daddy, Mommy, Uncle Desmond and Aunt Hazel also.